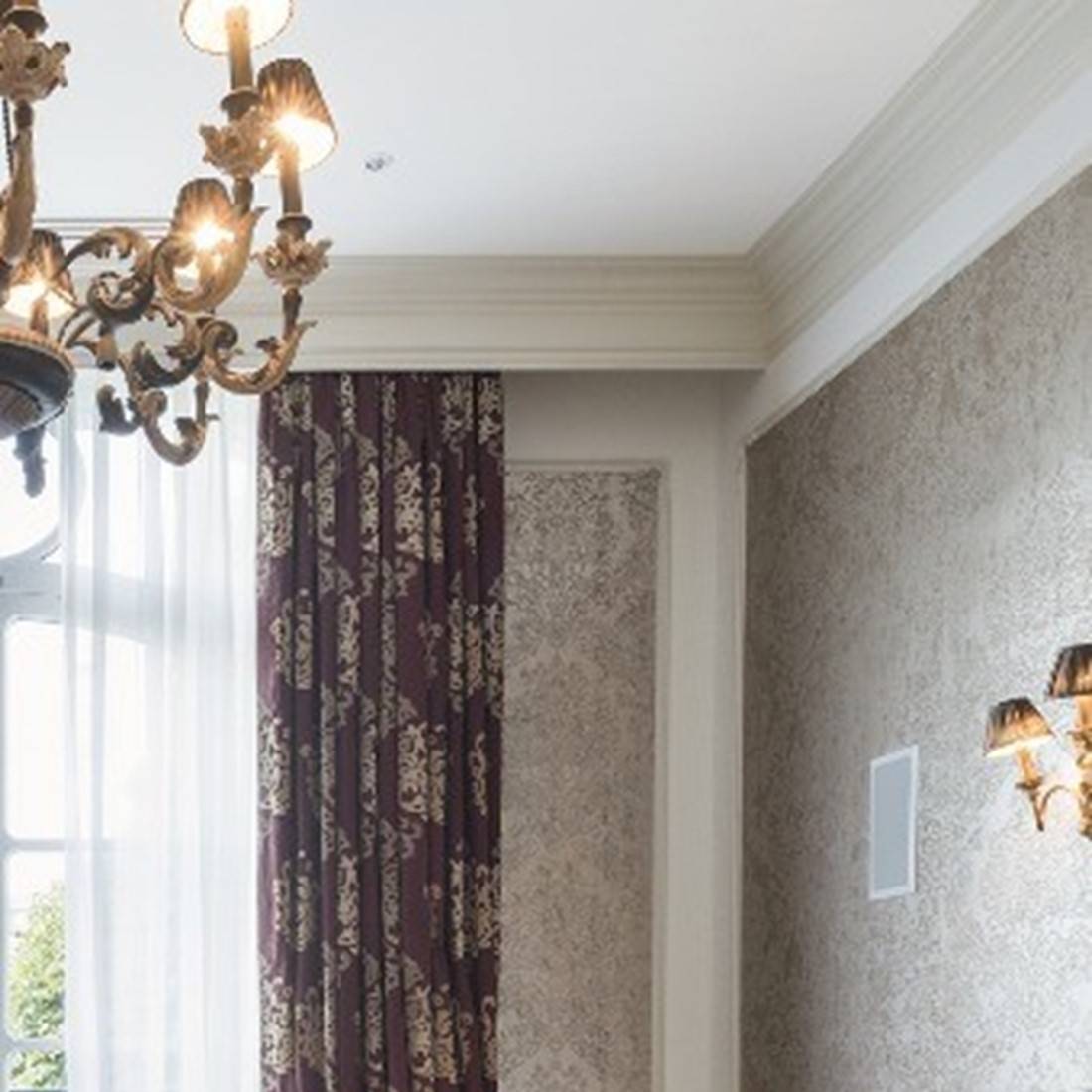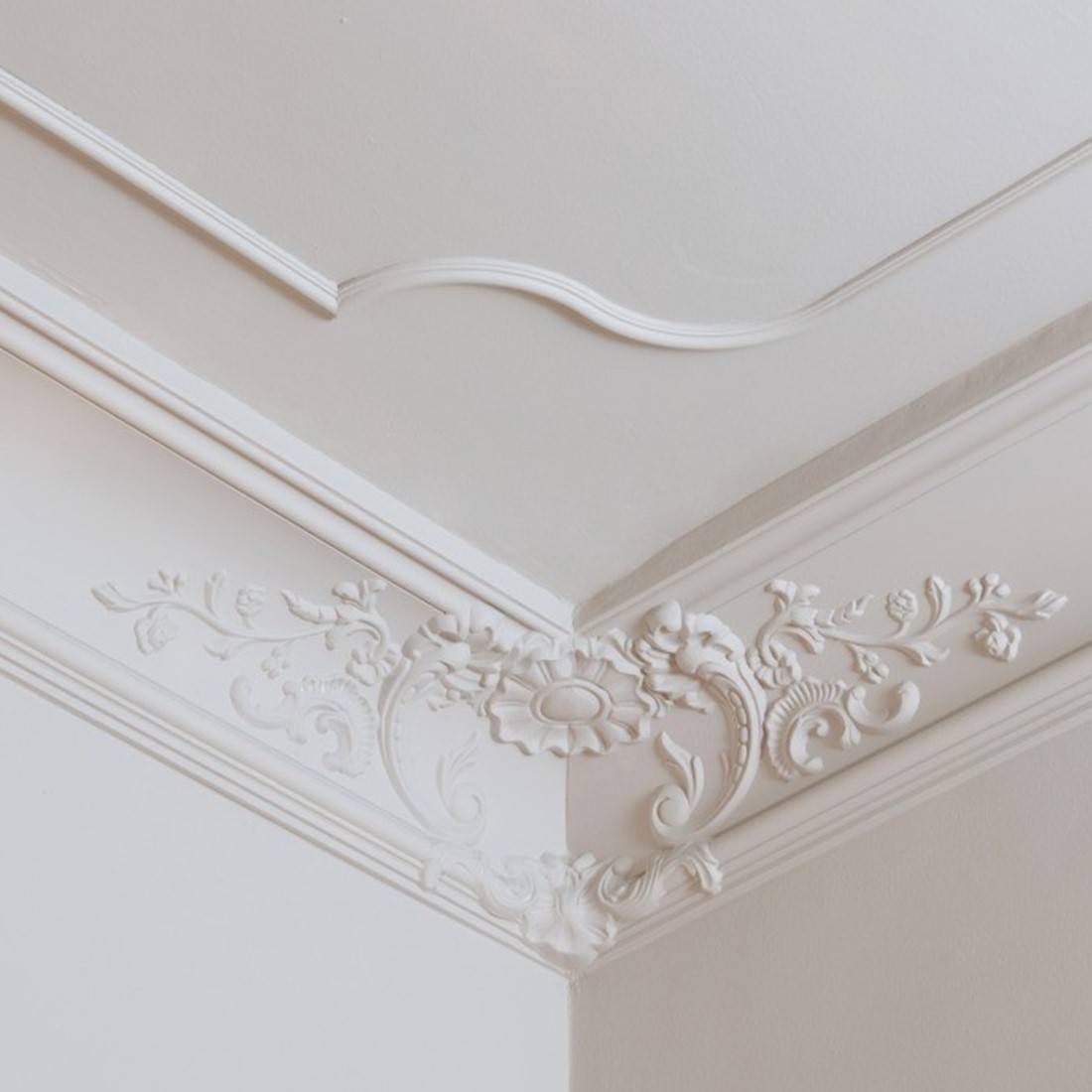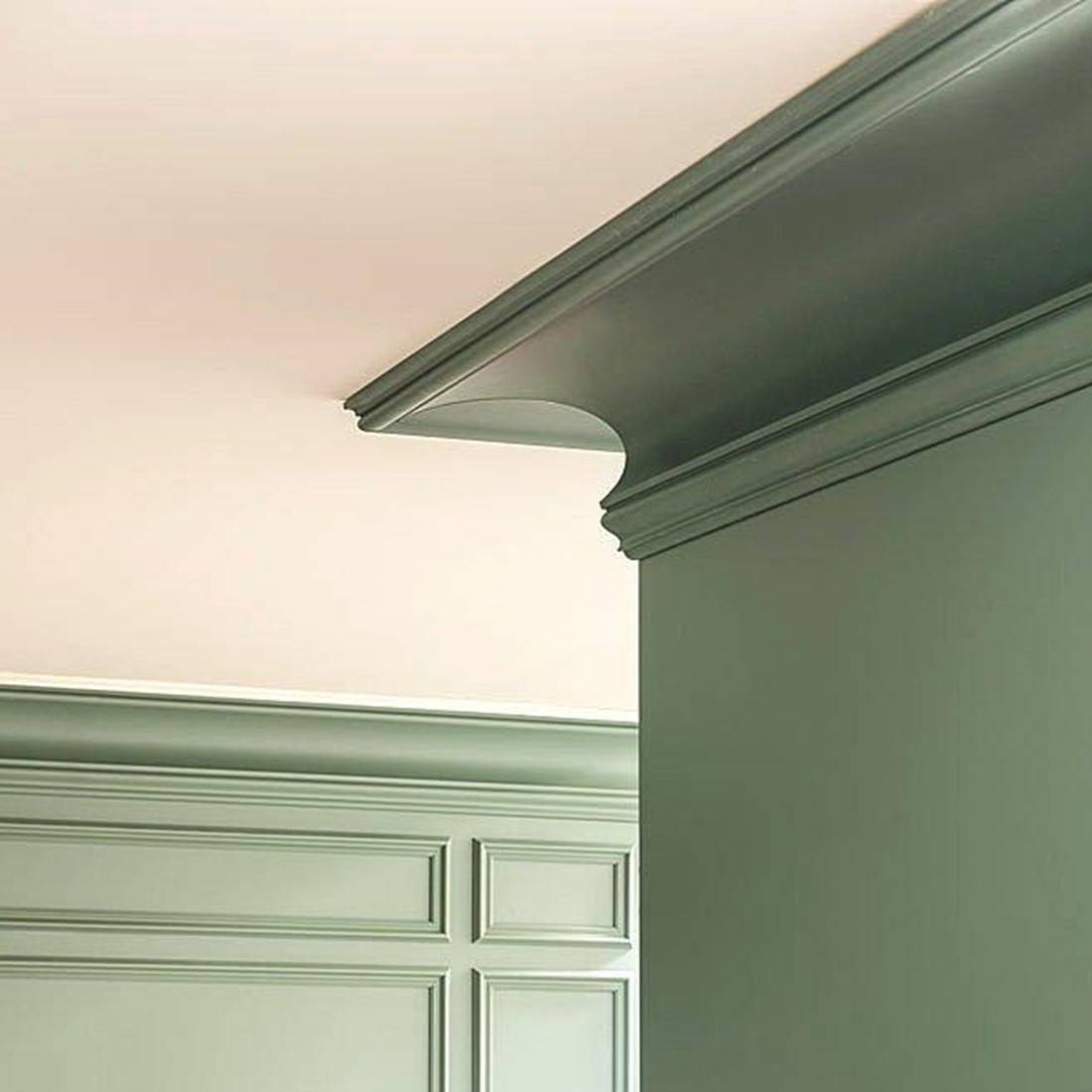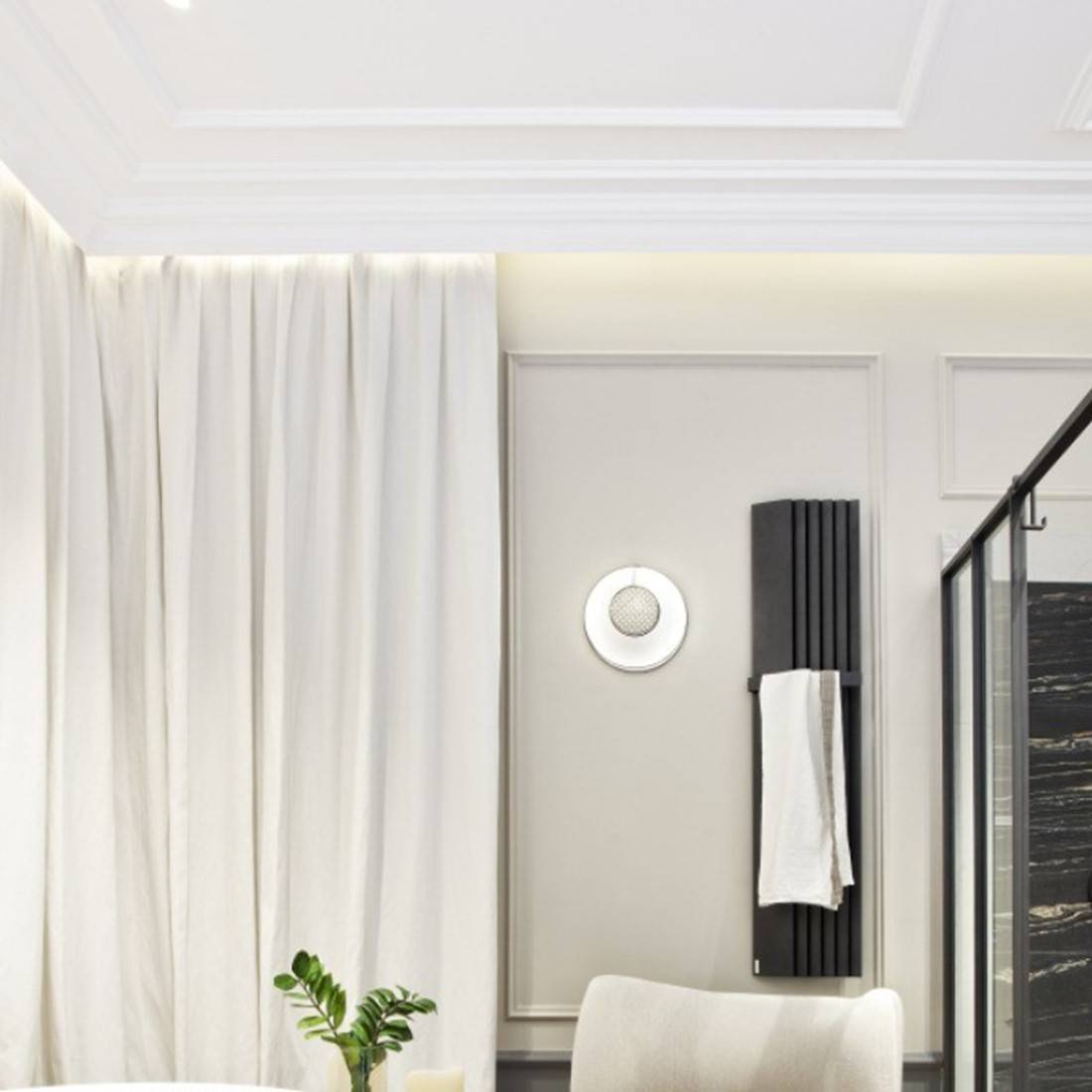 Coving & Cornice Moulding
When homeowners are planning their interior design, the area of a room where the wall meets the ceiling is often overlooked. These seams can look terribly bare without decorative coving. While it's true that other features might be more immediately noticeable at eye level, cornice mouldings can add a stunning architectural element to uninspiring ceilings.
Whether it's traditionally ornate coving or striking modern coving, this elegant type of décor can subtly transform the atmosphere of any room. Frequently found in period homes, cornice moulding is also popular in contemporary buildings as an upper wall trim, which usually features more embellishment than the skirting boards at the base.
Coving helps to soften the harsh angles of the wall and ceiling joints, with intricate details adding a sense of luxury to the space. It also has the practical purpose of concealing imperfections where the surfaces meet, such as hairline cracks or uneven paint. Why not take advantage of this aesthetically pleasing architectural moulding to transform your living space?
What's the difference between cornicing and coving?
If you're confused about these terms, don't worry. Also known as crown mouldings, they're often used interchangeably. To put it simply, a cornice is an ornamental moulding fitted around the top of a room at the junction of the walls and ceiling. Coving is one of the most common types of cornicing, often less elaborate in style.
The term 'coving' can also apply more broadly to further types of decorative moulding in other areas, while 'cornice' refers to wall trim in that specific place. Other types of coving include ceiling roses, dado rails, door mouldings, and exterior mouldings – all of which are also available to order online from the Library Ladder Company.
Cornicing is associated with traditional quarter-circle or C-shaped profiles, with intricate designs influenced by classic architectural styles – from Georgian to Victorian, Baroque to Art Deco, post-war to present day adaptations. Modern cornices can even feature hidden channels for incorporating LED lights – perfect for creating ambient uplighting.
Contact the Library Ladder Company for customisable coving
Here at LLC, we find that living room covings and covings for bathrooms are becoming increasingly popular with customers looking for ways to upgrade their plain interiors. Whichever mode of home décor you have, and wherever you want to install coving mouldings, we can offer the ideal solution. Filter by style below to find traditional or contemporary designs.
We're sure you'll find the ideal moulding design to suit your aesthetic preferences and budget from our extensive collection of coving and cornicing. Each one of the distinctive designs we provide can effortlessly uplift your bland interiors, adding a classy and characterful finishing touch to any room in a surprisingly cost-effective way.
If you need some extra help selecting cornice mouldings or calculating measurements for a specific product, please get in touch with our team by emailing us at info@thelibraryladdercompany.co.uk. You can also provide your phone number if you would prefer us to give you a call back, and a team member will be happy to discuss your requirements.
Coving & Cornice FAQs
Just as a person has a profile when you look at their face from the side, so does coving. Profiles can be simple curves and blocks or intricate patterns. Some of the common designs found in coving have interesting names: egg and dart (or egg and tongue), dentil, acanthus leaf, rais-de-cœur (leaf and dart), scrolls, beading, swag and bow, modillion blocks… the list goes on and on.
When it comes to coving sizing, the width usually refers to the 'projection' – which is how far the moulding sticks out from the wall. The height refers to the 'drop' – how far the cornice extends down the wall from the ceiling. The length is simply how long each section extends horizontally for, which lets you know how many sections you'll need to cover the ceiling and wall joins in a room.
Traditional coving was very heavy but very fragile, made from materials including plaster, paper-covered gypsum, wood, and more recently EPS (expanded polystyrene). However, at the Library Ladder Company, we prefer the durability and affordability of lightweight yet high-density hardened polyurethane. This is why we supply Purotouch cornices for a high-quality and long-lasting finish.
To start with, you'll need to measure each section of the wall that you want to cover where it meets the ceiling. It's recommended to order more lengths than you think you need to account for cutting and wastage, giving yourself up to 10%-20% extra to work with. You don't want to end up with gaps that you'll have to wait to fill until another order arrives (not to mention paying for delivery again!).
It helps to make a coving template, even if it's just a bit of cardboard, so you can mark in pencil where each piece should sit when flush with the wall and ceiling. If you have a spirit level, this will be invaluable in marking straight lines to guide your installation later. Make sure there is no flaking plaster, paint, or wallpaper in the area. You may need to apply a primer for the best adhesion.
When your cornices arrive, they may still be wet, so store them flat until they're fully dry (not in direct contact with flooring or furniture). You should move any furniture, curtains, paintings, etc from the walls, and cover furniture elsewhere in the room with dust sheets if it can't be moved.
If you want to paint your coving, it comes pre-primed, meaning you won't need to apply an undercoat or primer yourself. All you have to do is ensure that the cornices are clean and dust-free before applying your chosen paint. Water-based emulsions can be prone to hairline cracks due to movement between the ceiling and wall joins, while acrylic-based paint has more elasticity.
When you're ready to install your coving, try holding a smaller section in place first to make sure that it looks right by eye. If you need to cut some lengths down to size, or create angled joins, you can do this with a mitre block and saw. This is where having extra lengths will come in handy.
Be sure to sand any mitred ends to make the join smoother. Fit the pieces together and hold them in place without adhesive to check that there are no unsightly gaps. When you're happy with the cuts, you can start fitting the cornice sections. Work clockwise around the room so you don't get boxed in. 
Apply a strong adhesive to the back of the cornice, but only on the parts that will actually make contact with the wall and/or ceiling. Line the section up according to the markings you made in preparation, making sure it's completely straight, then press it firmly into place along the length.
Work along the wall piece by piece, also applying adhesive to the ends or mitre joints where separate lengths will need to press together. The fit needs to be as flush as possible to hide the seam. If you notice any small cracks or gaps, you can press adhesive or sealant into them as filler.
Allow the adhesive to dry for as long as directed in the product instructions. After 24 hours, you should be able to start painting the cornices if they're solid white and dry to the touch. If the design is particularly ornate, you'll need smaller soft paintbrushes rather than rollers. Never use wire-bristle brushes that can damage the moulding, and only apply thin layers to avoid clogging up the detail.
As advised above, an acrylic-based paint may be a better choice for cornices, as its elasticity can better absorb vibrations through the ceiling-wall join from people walking on the floor above.
A well-designed interior can dramatically improve the value of a property, so installing high-quality mouldings can make a positive impression. However, it depends on the size and style of your home.
Large and ornamental cornices will look out of place in a modern house, while plain coving would do a disservice in period buildings. For older homes, replicating elaborate Edwardian, Victorian, or Georgian styles is best, while sleek and simple cornices are more suited to contemporary houses.
Coving can be used in any room, but it can stick out for the wrong reasons in some settings. It's most commonly installed in dining rooms, sitting rooms, and sometimes kitchens and bedrooms. Only install cornices where they increase the sophistication of the room, and match the existing style.
You also have to be careful about the size of the profiles, as unnecessarily bulky coving can throw off the balance of the room's proportions. The higher the ceiling, the larger the cornices can be, as there is more space for them. Elaborate moulding makes more of an impact in a bigger room. On the other hand, lower ceilings can shrink a room, so use slim coving to make the ceiling feel higher.
Just because coving is traditionally painted a simple, clean white doesn't mean that it can't be any other colour. Pale shades like white and cream are popular because they reflect light better, making a room feel brighter and more open with a higher ceiling.
However, the way you paint your coving mouldings is up to you – there's no right or wrong option. Non-conventional uses of colour can create a bold trend, so it really comes down to the design of the rest of the room and the colours you prefer to use.
There are plenty of ways to make coving more unique and eye-catching with paint, including:
Continuing with the colour of the wall so the walls feel taller/the ceiling feels higher
Using the same bold colour for the coving and the ceiling
Matching the coving to the skirting boards and window sills
Using an accent colour so the coving complements another feature in the room
Creating a strong border against the walls by painting it in a contrasting colour
Generally, you should avoid darker colours, as it can make the ceiling feel lower and the profiles of the coving less visible, which defeats the point. Other than that, the shade and finish of emulsion is your choice – whether that's matt, satin, or gloss.
While traditionally made from heavy plaster, modern coving production has moved on to more lightweight and practical materials. It's possible to find cheap polystyrene versions, but these are both flimsy and a fire hazard, so we wouldn't recommend them.
We prefer to use durable and efficient polyurethane coving here at the Library Ladder Company. It achieves the same visual effect as plaster coving without all the drawbacks, not least the added expense. Here are some of the benefits of polyurethane over plaster:
Not as fragile, so less prone to cracking, chipping, or crumbling
Dries much faster, making it easier and cheaper to produce and install
Uniform details and moisture resistance to prevent wearing down over time
Can be made flexible and waterproof for curved walls or outdoor applications
Suitable for any type of ceiling, as it's not too heavy and only requires glue to attach
Pre-primed for paint, so the colour won't be absorbed and fade away
Simple and quick to install and paint, doesn't require hiring a professional
Can be treated with flame-retardant coatings to prevent spreading fire
So, there you have it – it's simply more cost-effective and convenient to use polyurethane materials over heavy plaster or unsafe polystyrene. As you can see from the product images below, you won't be compromising on appearance by choosing a stronger and lighter coving material.
The history of cornices and coving is extensive, so we'll just take a brief tour through the important periods. Decorative moulding has been in use for thousands of years, in both exterior and interior architecture of ancient civilisations such as the Greeks, Romans, and Egyptians.
Cornicing as we know it evolved largely from Ancient Greek and Roman designs like columns, fluting, friezes, and dentils. Traditionally hand-carved by skilled craftspeople, common classical motifs included leaves, flowers, and rosettes, plus vases, scrolls, trophies, and animal heads.
During the Georgian period of British history (from the 1710s to 1830s), wet plasterwork ceilings were created by hand to match the purpose of the room. For example, dining rooms would feature fruit carvings, with rails around the wall to prevent dining chairs from knocking against it.
While Georgians preferred simpler designs like dentils and squares, ornate fibrous plaster cornices came back into fashion for the Victorians (1830s to 1901). Victorians loved flower and vine style coving mouldings, especially fleur-de-lys patterns and ceiling roses. Intricate ceilings were a way of emphasising the importance of a room or the wealth and social ranking of the homeowner.
From the 1850s onwards, coving moulds became commercialised, so they were cheaper to produce and procure using alternatives like paper-covered gypsum. By 1880, decorative wallpaper was the height of Victorian fashion, and elaborate plaster mouldings fell by the wayside.
By the end of the First World War in 1918, stark and simple décor was the norm for the majority of homes. However, the Art Deco movement of the 1920s and 1930s soon reinvigorated the western world's desire for striking designs, bringing bold stepping and sweeping curves to the forefront. 
Following the devastation of the Second World War in the 1940s, ornamental ceilings again became less of a concern for recovering communities across the world. They didn't experience much of a renaissance until the tail end of the 20th century, though the contemporary revival of the 2000s onwards has seen yet another boom in this trend that never really goes out of style.