From the metal-work to the handrails on our ladders, all the parts are manufactured by American craftsmen.
Quiet Glide products have been tested through 100,000 cycle checks to ensure the technology can withstand a lifetime of use.
The Quiet Glide brand are so confident in their excellent products that they offer a limited lifetime guarantee.
The Quiet glide design has a patented technology which makes the hardware run smoothly and quietly every time.
We are the official distributor for Quiet Glide ladders, a range of high quality and aesthetically pleasing ladders and hardware that are high quality, with innovative technology and glide beautifully. We provide ladders to a large customer base across the UK and Europe, where our ladders feature in prestigious restaurants, hotels and luxury homes. We work with developers, interior designers, architects and homeowners alike to supply safe, high quality and beautiful ladders. Whether you are looking for a hook on ladder or a gliding rolling ladder we have every option to suit your bookcase, library, kitchen or storage. If you are looking for inspiration take a look at our Ladder image gallery.
For more information about the design and features of the ladders click the below tabs.
Get a Price - Use Our Easy Online Builder
To order your ladder you can use our easy to use bundle builder where you can select different sizes, hardware types and colour options to build the perfect ladder for your project and get an instant price online.
If you want to purchase individual components/spares please use the button below to shop the ladder and hardware components separately.
| | | | |
| --- | --- | --- | --- |
| Where to use a ladder | How to use the ladder | Things to consider for your ladder | New Column |
| Kitchen Ladder, Utility Room Ladder or Pantry Ladder | Kitchens are a great place to make use of a ladder. With storage being so important in a kitchen why not make use of the vertical space in your room. You can add a whole other layer of storage cabinets on top of your kitchen by simply adding a ladder rail in the between. | If you want to open cupboard doors over the top of your ladder then you need to make sure you have enough clearance above your rail. Please see our Dimensions & Clearances Brochure to double check. | |
| Bookcase Ladder, Library Ladder, or Shelving Ladder | Traditionally ladders have been used on bookcases for many years and where the trend originated. Ladders allow you to access the very top books in your library. Whether you need lots of book storage or you have perfectly styled shelves and ladder makes the perfect accessory with beauty and function. | When choosing your ladder there are two options for the rail brackets. These brackets hold up the rail and you need one every 900mm along the rail. Choose from vertical style or horizontal style. You would suggest horizontal brackets for fixing to shelf fronts or vertical brackets if you are fixings to uprights or bookcase columns. | |
| Wardrobe Ladder or Dressing Room Ladders | Using a ladder for your wardrobes or dressing room will be a fantastic investment. Storage is everything when designing to store your clothes and shoes and by adding a ladder you are maximising on how much storage you can fit into a room. You could add a ladder rail above your wardrobes to access a top level of cupboards above and by using a ladder you make the high up storage easy to access everyday storage. We love the idea of using a ladder on a floor to ceiling shoe wall or handbag storage wall - how very designer! | If you want to open cupboard doors over the top of your ladder then you need to make sure you have enough clearance above your rail. Please see our Dimensions & Clearances Brochure to double check. | |
| | A wine room is the ultimate in luxury and you can take that luxury to the next level by adding a ladder to your wine store. Make the most of your storage by taking your wine racks to the ceiling and simply alight your ladder to access the top ones. | We suggest adding hand-rails to the sides of your ladders to add some additional safety. After-all we want to make sure you are safe after sampling your finest wines! | |
| | Although a luxury, boot rooms are arguably one of the most practical rooms in the home. They get lots of use, have to have functional storage and looks great at the same time. Adding a ladder in order to maximise your storage is the perfect way to keep harmony and order in your bootroom. | If you want to open cupboard doors over the top of your ladder then you need to make sure you have enough clearance above your rail. Please see our Dimensions & Clearances Brochure to double check. Text | |
| Mezzanine Ladder or Loft Ladder | Although the standard ladders were not originally designed for use on a mezzanine lots of our customers have seen the benefit in using the ladder to access loft areas, roof areas and mezzanine floor levels. The benefit of being able to slide the ladder along to the perfect place when you want to use it and stow it away again after makes the ladder a great way to make the most of your space. | The library ladders were not designed for use as a loft or mezzanine ladder so you need to make sure you have taken the design into consideration. The ladders have a round hand rung at the top which could cause a tripping hazard as you dismount the ladder at the top. | |
| | We have seen an increasing amount people use our ladders in tack rooms which we think is a great idea. Making the most of the storage space on a vertical wall means more space space overall. | When designing the ladder for your tack room make sure you think about how you will attach the rail for the ladder to slide along. We suggest adding a hand-rail to the sides of your ladder to help with carrying down those heavy saddles! | |
The Hardware Options for Ladders
| | | | | |
| --- | --- | --- | --- | --- |
| Full Rolling | Hook Rolling | Hook Over | Basic Hook on | Corner Rolling |
| | | | | |
| The classic rolling hardware is attached to the rail and has two rollers on each side of the ladder. This hardware is paired with the braking bottom wheels to create a smooth, silent and effortless roll from side to side. This hardware has an inbuilt mechanism to allow the ladder to be stowed vertically against the wall/joinery. Read more | The hook rolling hardware still has all the rolling hardware attributes but has the added benefit of allowing you to lift the ladder from the rail and relocate the ladder to another rail. This means you could use the ladder in multiple locations. The top rollers are paired with the braking wheeled feet. This hardware has an inbuilt mechanism to allow the ladder to be stowed vertically. Read more. | The sliding hook hardware allows you to hook your ladder on and off from the rail. This hardware has two hooks on the top of the ladder and is paired with the non-slip rubberised feet at the bottom of the ladder. To move the ladder along the rail you need to lift the weight of the ladder up without unhooking and you can walk the ladder along. This hardware has an inbuilt slider to allow the ladder to be stowed vertically. Read more. | This is the most basic option for hardware and is has a 'double hook' at the top of the ladder and non-slip feet at the bottom. This allows you to hook the ladder on using the top hook and then lift and use the lower hook to stow the ladder away vertically. To move the ladder along the rail you will need to completely lift the ladder off of the rail and hook the ladder back on in the location you want to use it. | If you are looking for the ultimate in premium design them look no further than the 'swivel rolling' hardware. This hardware allows you to lift and roll your ladder around a 90degree curved corner rail. This means you can have a continuous rail around your room. Read more. |
The Ladders & Height Options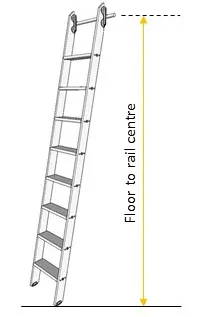 Our high quality library ladders are manufactured from 19mm solid timber and have beautifully crafted detailing from top to bottom, from chamfered corners and rounded edges and a wood turned grab rung at the top.
Choose from our range of standard height ladders for the most cost effective way to purchase or if you can't make any of the standard ladders work we can offer a made to measure service. For the made to measure service you need to tell us is the height you want to mount the rail that your ladder will slide along. (From the floor to the centre of the rail)
| | |
| --- | --- |
| Ladder Height | Rail Height (from floor to the rail centre) |
| | |
The 'Build your Ladder Order' builder allows you to select your ladder and the wood type that you would like and automatically adds in the fixings and ladder support rods. The ladder support rods are a fixing bar that sits underneath each of the ladder steps to create a more safe and secure ladder.
Made to measure ladders
3ft - 5ft (refers to the side length of the ladders)
6ft - 8ft (refers to the side length of the ladders)
9ft - 11ft (refers to the side length of the ladders)
12ft - 14ft (refers to the side length of the ladders)
How does the ladder arrive?
All of the ladders arrive unassembled and unfinished ready for you to apply a paint or stain onto your new ladder to match the rest of your interior or joinery.Text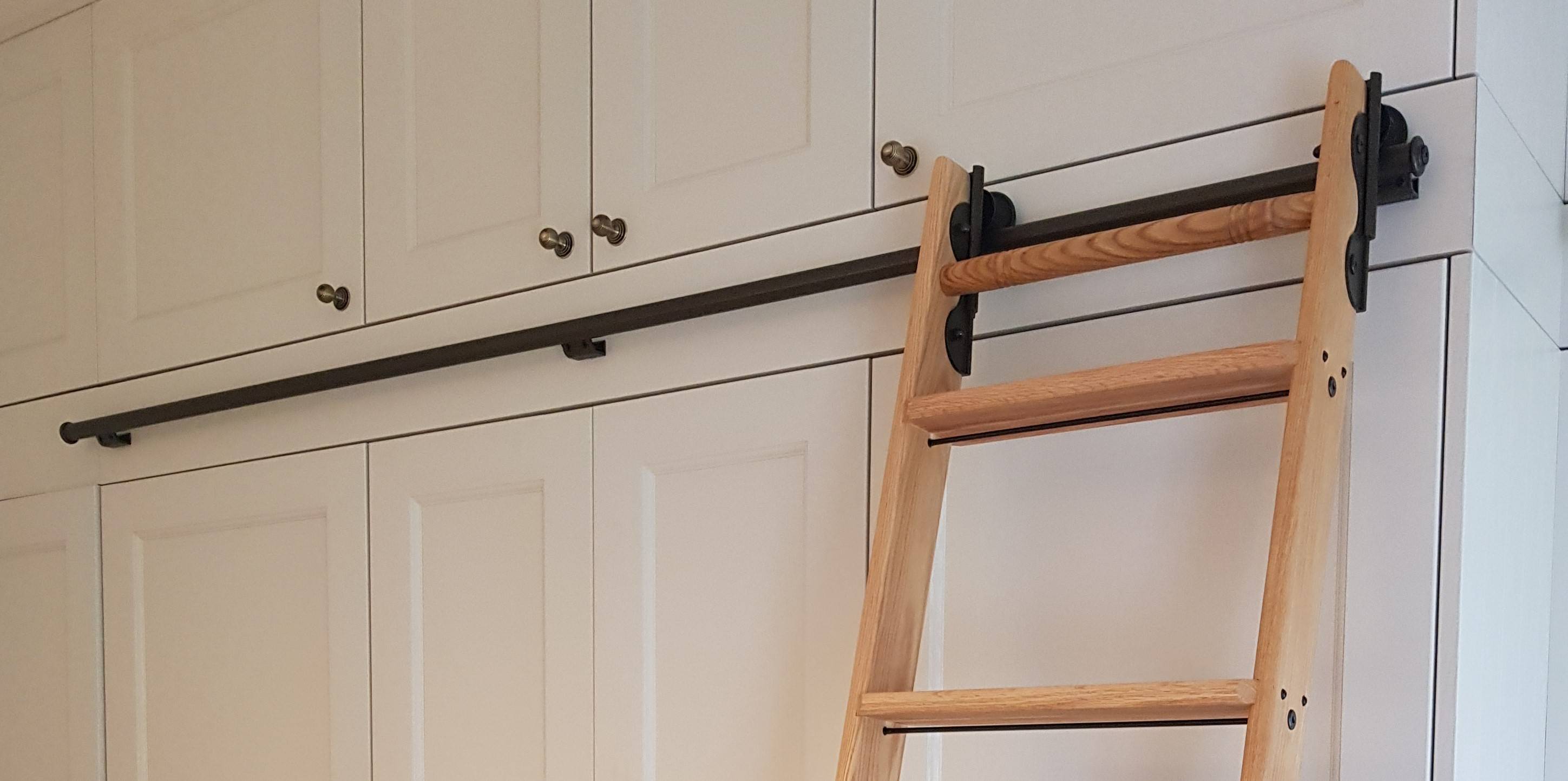 The ladder rails/poles are what your ladder will hook onto and/or roll along. They are high quality and made from 25mm solid aluminium (not hollow). The ladder rails are supplied in 6ft (1828mm) and 8ft (2438mm) lengths which can be joined together (with a joining kit) to make longer runs of rails or you can cut them down on-site to create the perfect size for your space. The rails are held up by rail brackets and finishes at each end with a rail end cap.   Please note: The aluminium rails have a sprayed paint finish and during manufacture when the rails are sprayed, they are held up using hooks. These hooks cause marking in the paint at regular intervals on the back of the rails. Once the rail is fitted these manufacturing marks will be completely out of sight.  
Your Ladder Order
builder allows you to select the overall running length of rail that you need and it will automatically add the correct amount of rails, joining kits, rail brackets and rail end caps that you will need for each run of rail.
The clever designers at Quiet Glide have made sure that you can stow your ladder away vertically when not in use. This clever slider is built into the same mechanisms at the top of the ladder.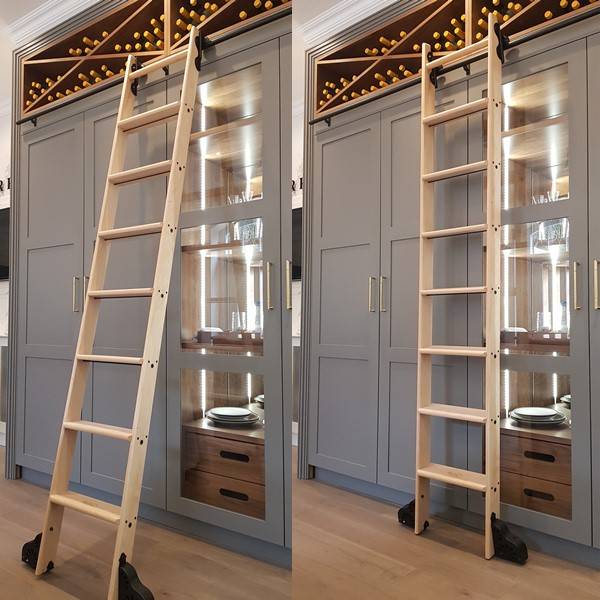 You need to feel as safe as possible when climbing your ladder and that's why the rolling wheels at the bottom of the ladder have all got an in-built brake that automatically applies when you mount the ladder.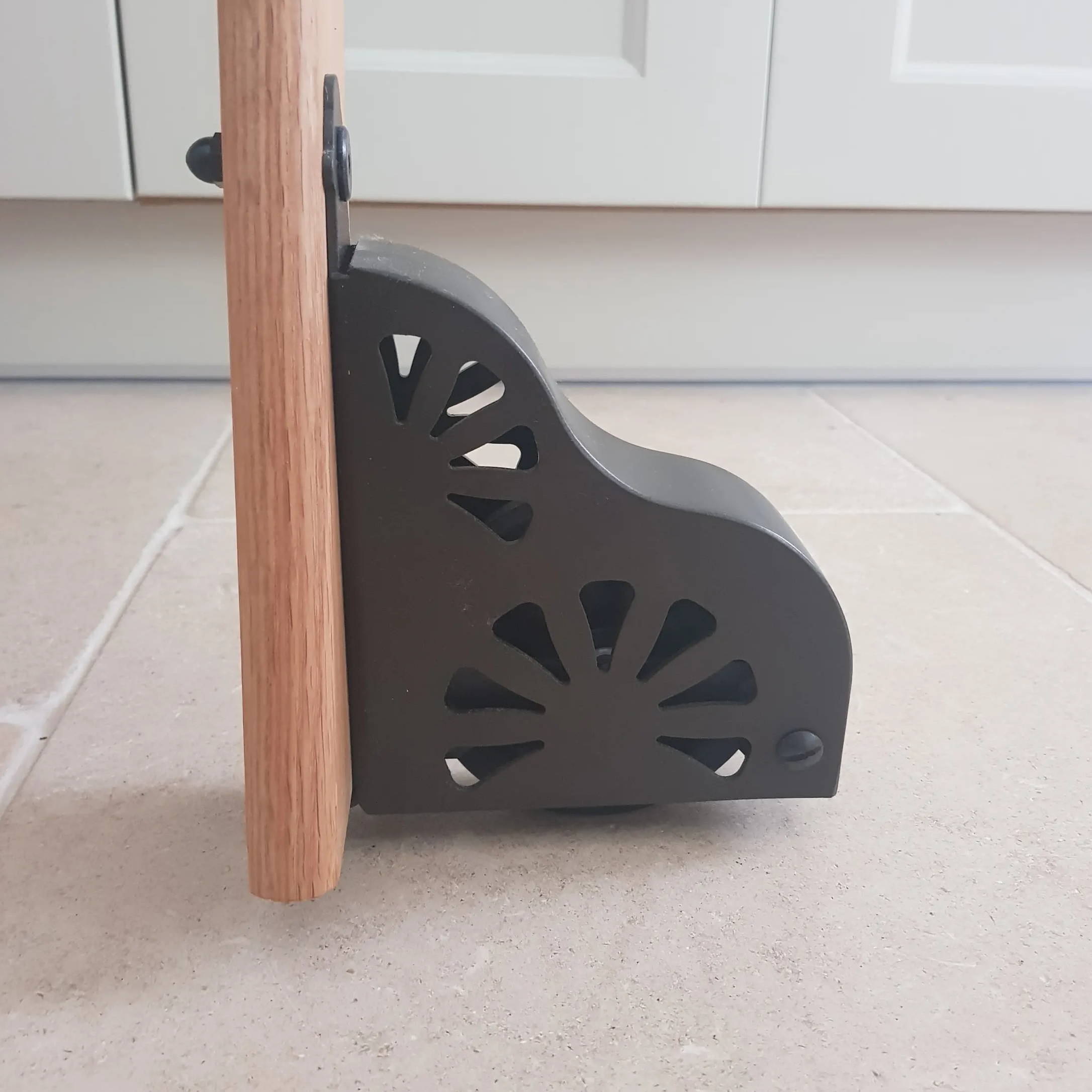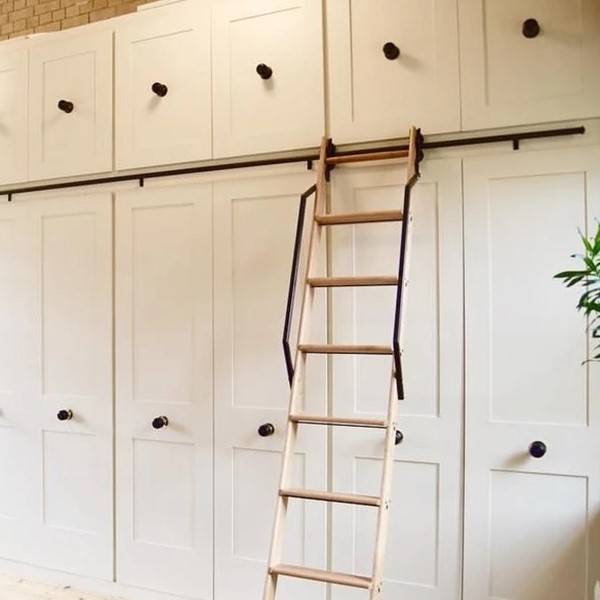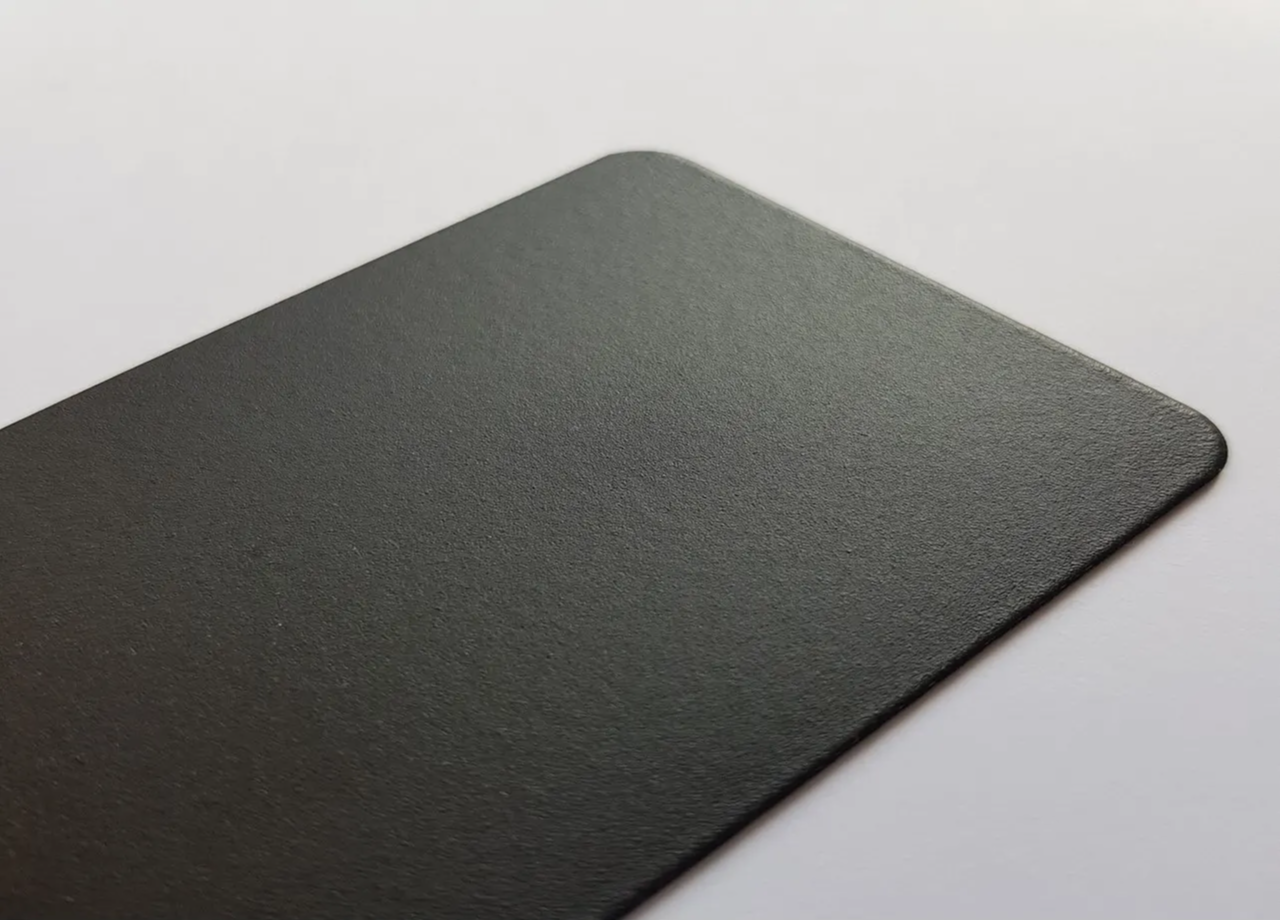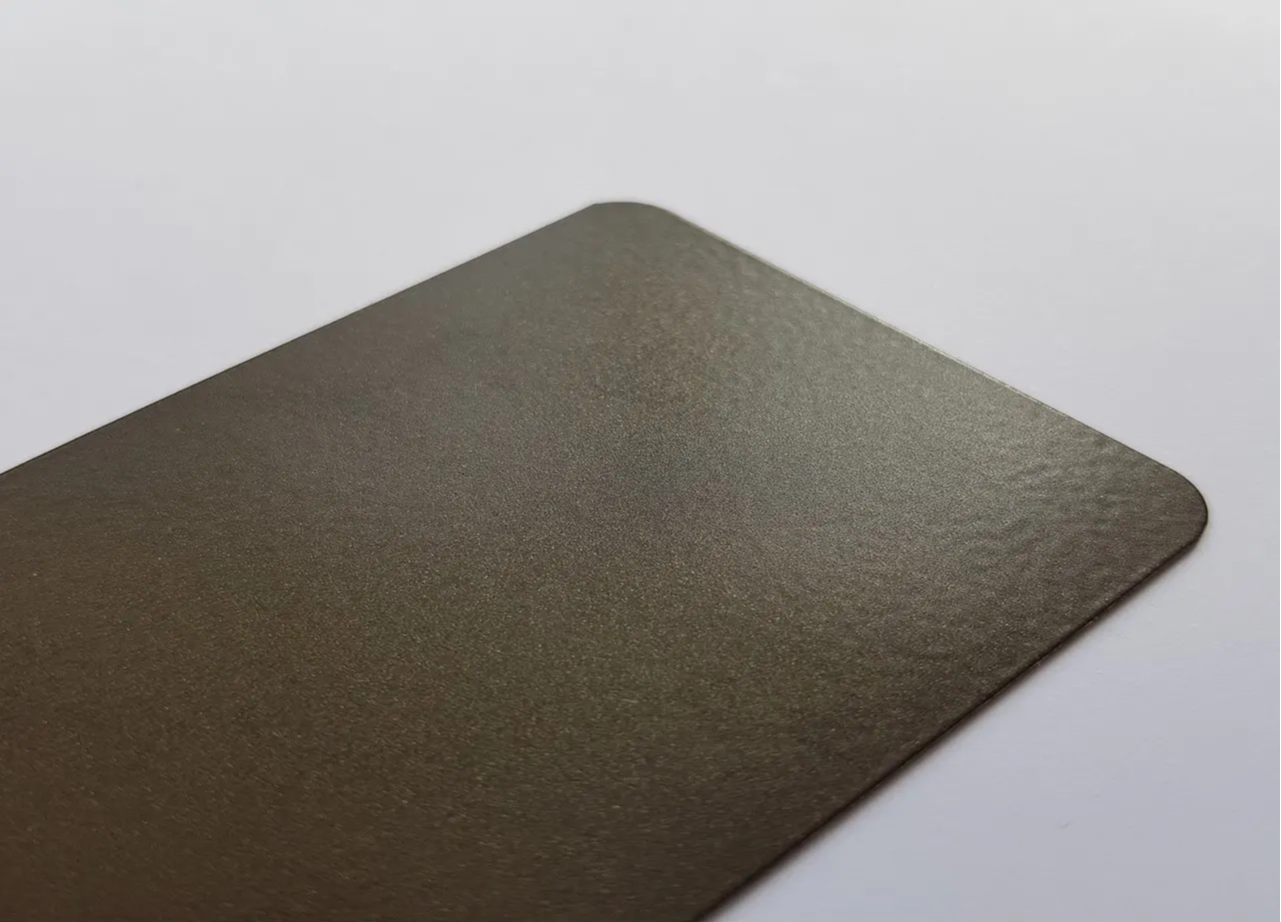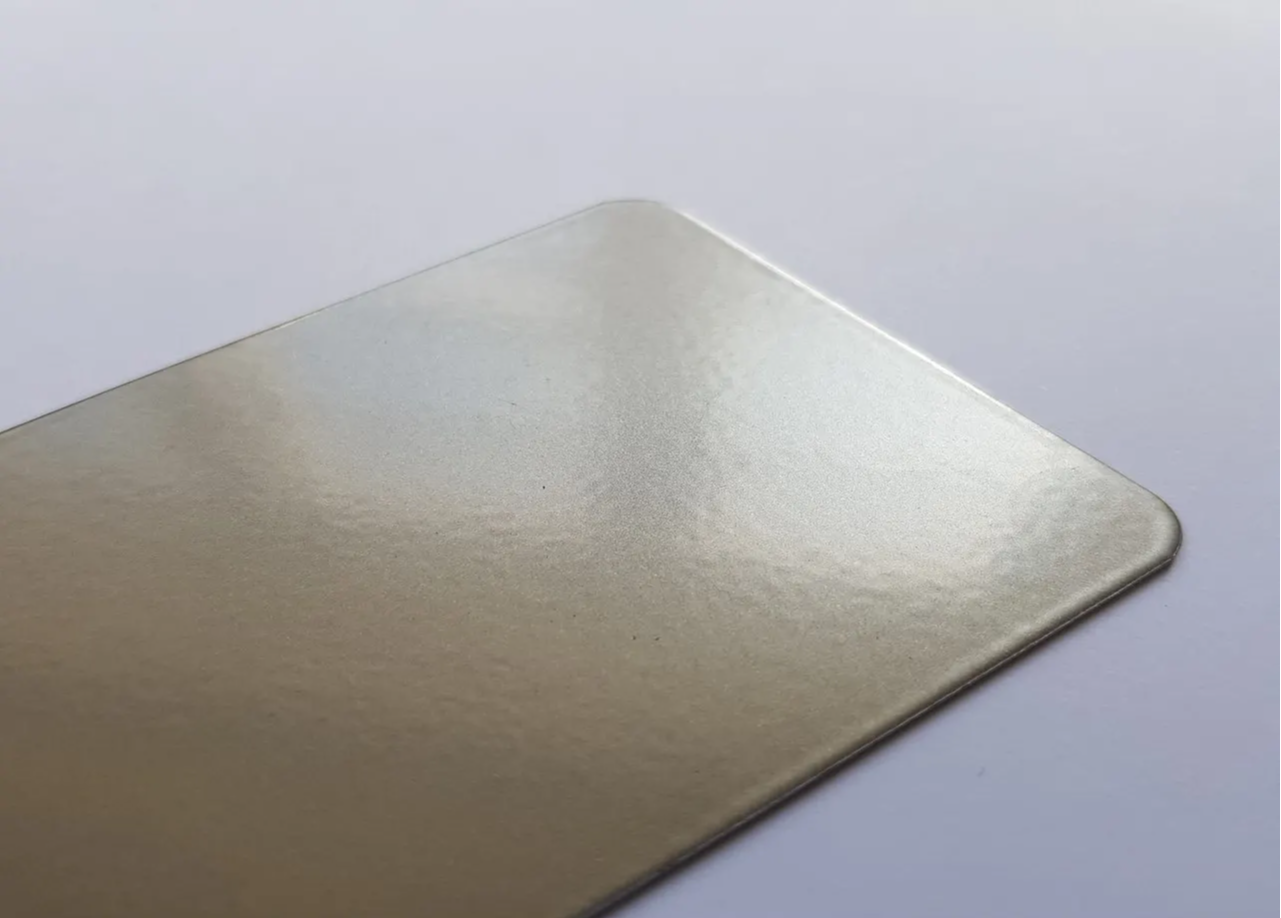 The finish on the hardware is a sprayed paint finish and comes in three colours. Matt Black, Oil Rubbed Bronze and Satin Nickel.
(Please note the colour names are descriptive regarding the paint colour)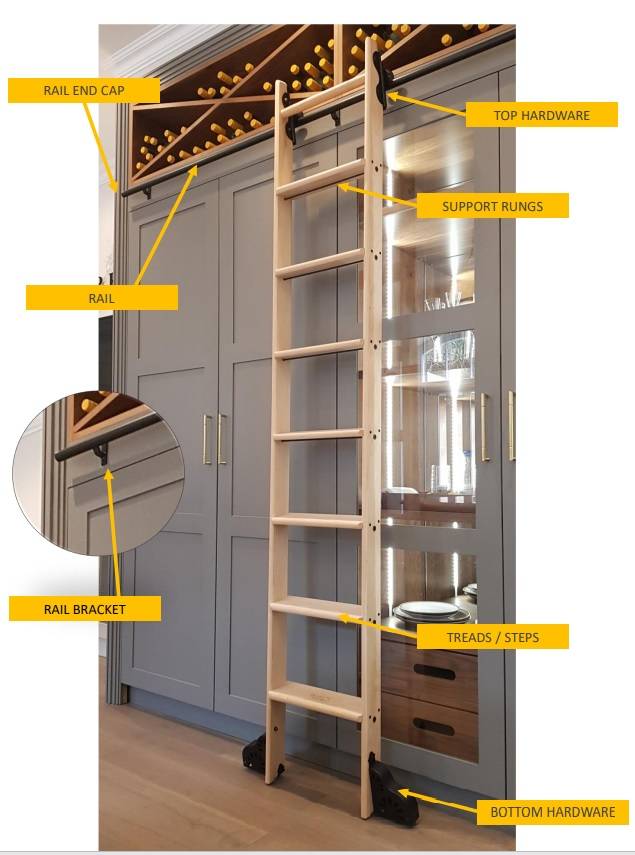 1. Choose your hardware type
There are four different options to choose from depending on what your needs are:
1. Full rolling
2. Hook rolling
3. Swivel rolling
4. Hook-over
5. Basic Hook On
2. Work out what you need
The most important thing to determine is the ladder height and the height at which you want to mount a rail onto your bookcase or cabinetry. Choose from a range of standard height ladders which have a predetermined height rail or opt for a custom height ladder.
*Make sure your order includes ladder tread support rungs. These are metal rods that sit underneath each ladder tread giving your ladder strength and support.
3. Decide how long you want your rails
This is the side to side width that you want your ladder to slide along. Choose from 6ft rails or 8ft rails which can be joined together using a joining kit to create longer rails, or cut them down on-site to the perfect size
4. Add your brackets and end caps
Once you have decided how many rails you want you will need to work out how many brackets you need to hold up your rail. There should be a gap between brackets of no more then 3ft (914mm). Finish off your rail exposed ends with an end cap kit.
Choose from some optional extras that will take your ladder to the next level. Add a wooden hand rail on both sides of your ladder or some grip treads to make your ladder steps non-slip.
Product Dimensions & Installation Instructions
If you are looking to learn more information about the ladders, we have downloadable pdf brochures for how to order, technical information about product sizes and installation instructions.
Use this button to take you to the brochures page.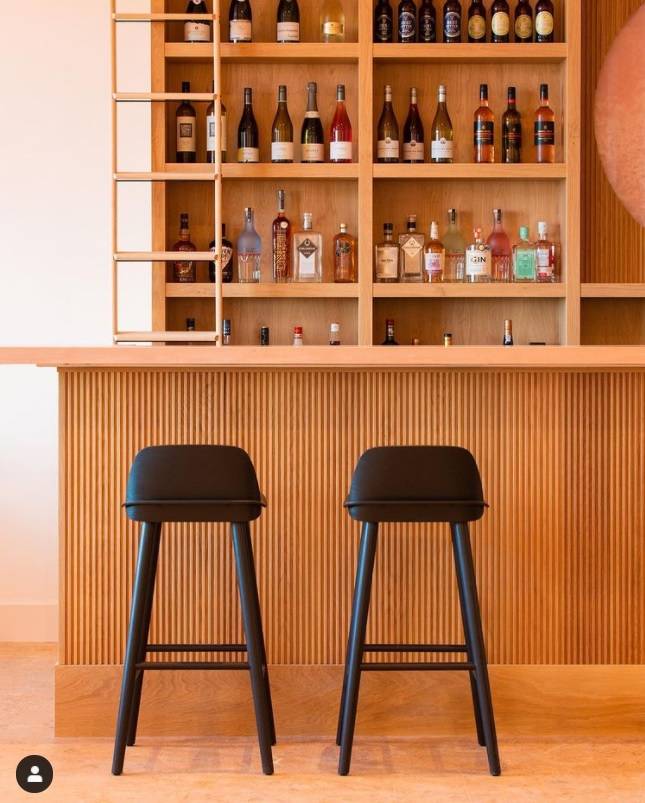 For updates, customer testimonials, and the latest ladder projects check out our blog all about ladders. Get inspired for your project by reading our guest blogs where we highlight great projects where one of our ladders has been used.
"We are so impressed by the overall quality and finish of the ladder and the hardware. We also really appreciated the quick and helpful customer service."
Architect
2 DEC 2019
"I was so excited to receive our rolling kitchen ladder and it did not disappoint. This is by far my best thing in my kitchen."
Home owner
15 SEP 2020
"The library ladder company has supplied our workshop with several ladders now and every order is consistent, high quality and on time.
Joinery Company
15 JULY 2020